Here is the heatmap of cases for PHE week 41 using week 40 data.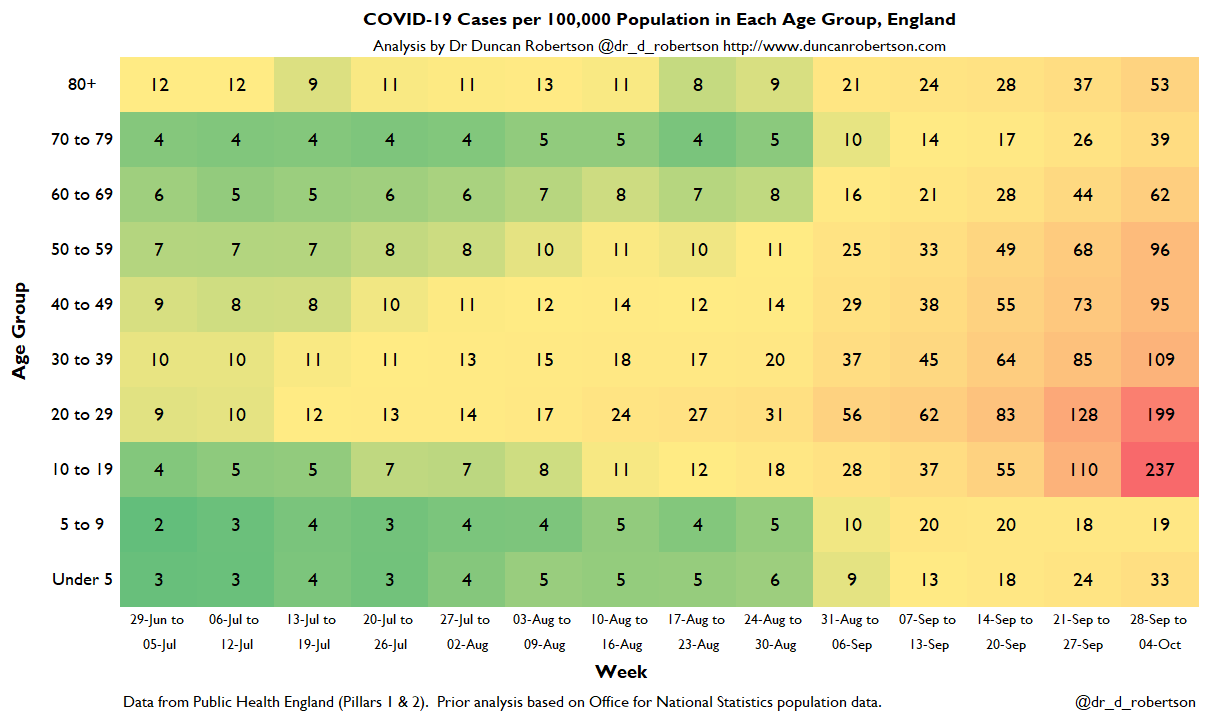 Studies in Spain, France, and the US have all shown that although the second wave may start in young people, it will inevitably move to older people.
The remarkable thing about this disease is that the death rate increases massively with age.
Students are unlikely to die of Covid-19, although some may, and we are still unsure about the long-term health consequences from catching the disease.
The heatmap of cases shows how the disease has travelled through the age groups. As you go from left to right through the weeks, you can see a gradual rise upwards through the population.
These figures should be seen as a minimum. Lack of testing capacity has meant that not everyone can get a test. For example, we do not know whether delays in testing may be concentrated in certain groups such as care home residents.
The latest figures (which will be revised upwards as new cases are recorded) show a very worrying number of cases in the over-80s.
A case rate of 53 per 100,000 over-80s is very concerning. The Department of Health and Social Care have this week stopped publishing the COVID-19 surveillance report which broke down numbers of people with the disease. However, we can estimate that over 1,000 over-80s tested positive last week. Given the very high fatality rate in over-80s, we can confidently predict that over 100 over-80s will die of infections caught in the last week.
This is one of many reasons why interventions are so critical – by not clamping down hard on the disease now, we will sleep walk into a situation as bad or worse than the first wave. The mid-July Academy of Medical Sciences report commissioned by the Chief Scientific Adviser set out a reasonable worst case scenario of 119,000 deaths in this second wave excluding those in care homes. We have a choice as to whether we as a nation repeat the mistakes of the past.